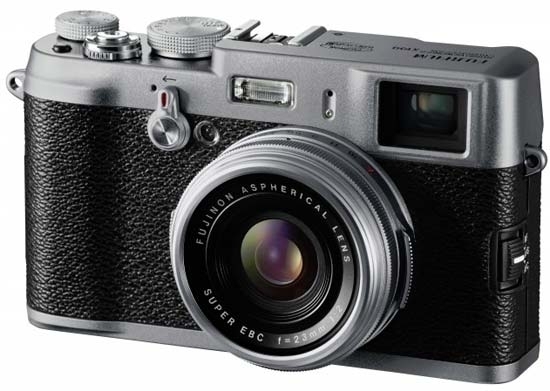 FujiFilm Finepix X100 12.3MP Digital Camera w/ Optical and Electric Viewfinder
You're probably wondering why Akomplice Clothing is carrying the FujiFilm X100 at our store.
The Fujifilm X100 DSLR, hottest and most sought after camera of our time has been sold out everywhere since its initial release a month ago. Notable publications including Hypbeast and New York Times have raved about the beautifully small yet extremely talented camera reminiscent of the vintage 35mm film camera. Akomplice happens to have a small stock on hand for a limited time.
A small excerpt on the Fujifilm x100 from Hypebeast.
"The first thing that draws you to the FUJIFILM X100 is its retro design. The camera does ooze a certain degree of class thanks to its relatively hefty and robust footprint as well as contrasting silver metal and black leather finish. The fixed focal length f/2 23mm lens (or 35mm equivalent due to the APC-S sensor) has drawn initial criticism for its lack of interchangeable options, making the X100 camera essentially a niche product in the eyes of many. But despite this, what it does do is offer outstanding image quality when paired with a 12.3 MP sensor that has notably been immune from any ongoing megapixel war which seems to be trailing off as of late. Shooting in high-ISO is a breeze with X100 as there is little loss of detail when shooting upwards of ISO 6400. Composing and shooting with the hybrid viewfinder is an interesting experience. From a digital perspective, you have all the settings as well as review at your disposal while the optical viewfinder when activated, provides a more visually-simple approach." Source Hypebeast.


FUJIFILM X100 Features

Design and control
Inspired by the beauty and form of classic cameras from the past, the FinePix X100 combines all the latest technical digital innovations in a beautiful, traditional chassis which oozes class and prestige.

Echoing the functional aesthetics of analogue film cameras, the 'manual' dials have been carefully positioned to give the photographer easy control over creative shooting. Aperture, shutter speed and exposure compensation can be checked even before the camera is turned on.

The ergonomics of the design offers the perfect balance between compact convenience and user-friendly operation. Every control has been carefully considered to give the photographer fast access to aperture, shutter speed and exposure compensation, to allow maximum creative expression with minimum hassle.

Hybrid Viewfinder
FUJIFILM's unique Hybrid Viewfinder is unparalleled and the FinePix X100 is the first camera to feature this innovation.
The Hybrid Viewfinder combines the window-type "bright frame" optical viewfinder found in high-end film cameras, such as 35mm or medium-format cameras, and the electronic viewfinder system incorporated in fixed single lens or mirrorless digital cameras.

While traditionalists prefer the clear, sharp view of an 'optical' viewfinder, modern electronic displays, giving data like shutter speed, aperture, white balance, exposure correction and ISO can aid photographers tremendously. The new Hybrid Viewfinder on the FinePix X100 aims to give the 'best of both worlds.'

The reverse Galilean optical finder with a 0.5x magnification features all-glass elements made from high-refractive index glass and offers low chromatic aberration and distortion.

By using an integrated prism for the 1,440,000 dot LCD panel image on the viewing screen in the reverse-Galilean optical viewfinder, the Hybrid Viewfinder can show both the shooting frame and a variety of shooting data. Of course, it can also be used as a high-quality electronic viewfinder to compose or playback shots.

With the ability to instantly switch between optical and electronic viewfinder images with a simple "one touch" control; the new Hybrid Viewfinder offers users expanded freedom in the composition and enjoyment of photography, in a range of challenging shooting conditions.

Prime Fujinon Lens
Conceived and created by people who accept nothing less than excellence, FUJINON presents a masterpiece in optical technology.

This newly developed lens offers a focal length of 23mm (135 equivalent: 35mm) that lets you capture a wide range of subjects while maintaining high resolution and optical clarity. It also features a large F2 aperture which not only delivers both ample brightness and high contrast sensitivity, but also achieves a high level of resolution when the aperture is closed by 1 or 2 stops.

In addition to this strong specification, the system design includes an aspherical lens, a 9-blade aperture diaphragm and a built-in ND filter. The adoption of a non-collapsible lens structure with minimised lens length not only contributes to the compact size of this model, but it also eliminates telescoping of the lens when the power is on.

FUJIFILM has selected this fixed focal length lens for the FinePix X100 because this configuration consistently delivers premier image quality in every way; from exceptional resolution and minimal aberration, to excellent light volume in image corners.

APS-C Cmos Sensor
FUJIFILM has customised an APS-C size 12.3 megapixel CMOS sensor for the FinePix X100; resulting in an ideal match for the performance characteristics of the 23mm F2 lens, which also works in tandem with the newly developed EXR Processor.

The combination of a fixed focal length lens, a high-sensitivity sensor (approx. 10 times the sensitivity of a conventional compact*) and a high-performance image processor will capture exceptionally high-quality images over the entire sensitivity range, from low to high ISO settings.

EXR Processor
Fully exploiting the superior imaging performance of the FUJINON lens and high-sensitivity sensor, the newly developed EXR Processor achieves the highest image quality of any FinePix camera produced to date.

Featuring improved high resolution, high sensitivity, low noise and wide dynamic range technologies, the enhanced EXR processor also features a more rapid signal processing response.

By re-examining every aspect from response to the circuit structure throughout the entire development of the EXR processor, FUJIFILM have achieved a significant leap in performance, that has resulted in the ability to deliver a more responsive and faithful reproduction of the image.

In addition, the graphical interface, (style and rendering of the LCD information), has been upgraded in the newly developed LSI to enhance the user experience and to improve the clarity of the information presented.

SPECS:
SKU FJD8244 Model 16128244 UPC 074101008357 Weight 4.0000 Manufacturer Fuji Product Type Cameras & Camera Accessories Page Layout No layout updates Camera Type DSLR Compatable Media SD - Secure Digital Sensor Type APS-C CMOS Sensor Audio Recording stereo sound Video Recording 1280x720 HD Built-in Flash Yes Type High-speed contrast AF Coverage 90% Magnification 0.5X magnification Type Ultrafine Speeds 30 sec. to 1/4000 sec. Type bulb Dimensions 126.5(W) x 74.4(H) x 53.9(D) mm including lens Size 2.8 inch Type Colour LCD monitor Dots approx 460,000 dots Exposure Compensation -2.0EV-+2.0EV Exposure Control Programmed auto mode, Aperture priority mode, Shutter priority mode and Manual mode