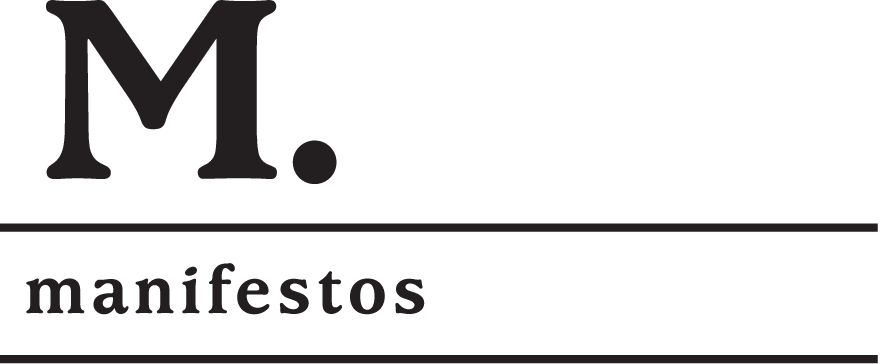 akomplice is a movement. we are characterized solely by the love inherent in each individual moment. our philosophy is simple, evolution through innovation.

artifacts of minimalism — vsop is a project focused on the creative art of product quality, environmental responsibility, and the highest standard of design. we stand for virtue above all—profit is simply a means to advance the cause. vsop is crafted to withstand generations of use and designed to gain sophistication and soul with age. we hope to learn and evolve along with our customer, testing the limits of what a responsible clothing brand can be. we will support the environment with every dollar earned, taking vsop beyond a clothing brand and making it a leader in sustainable brand culture.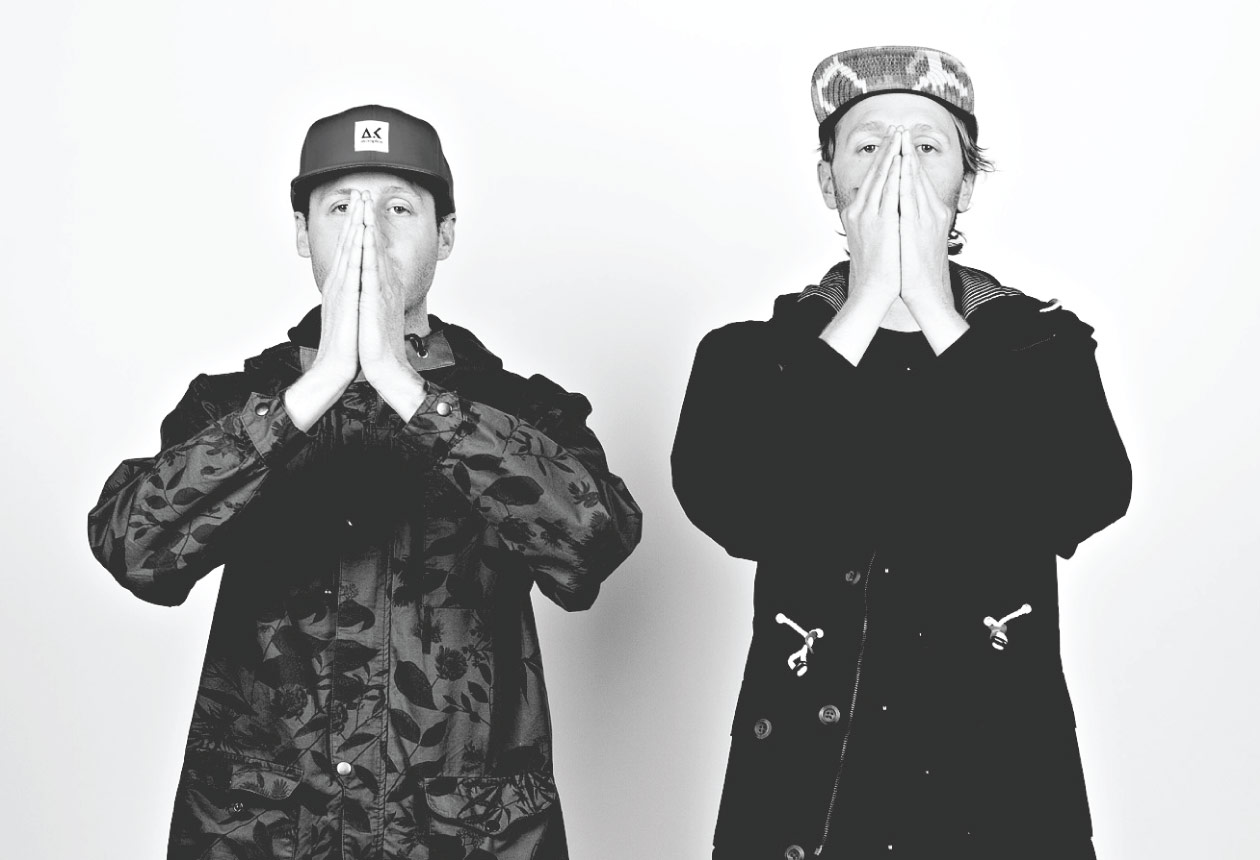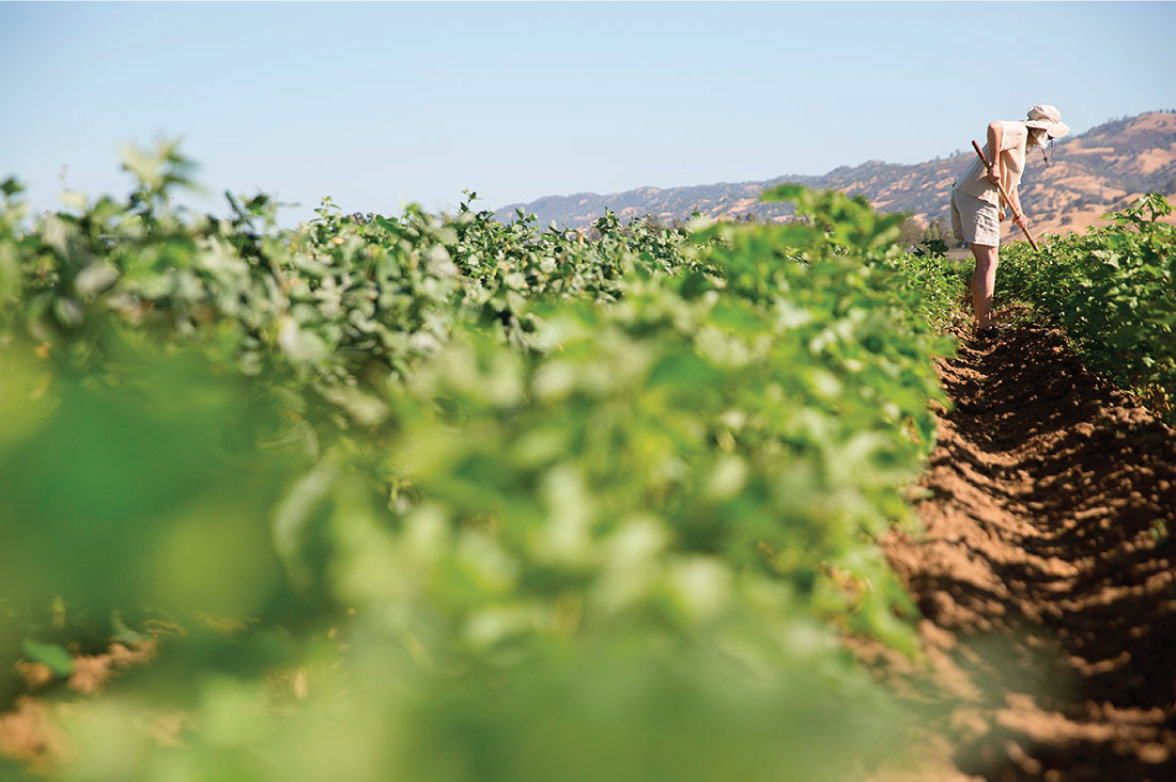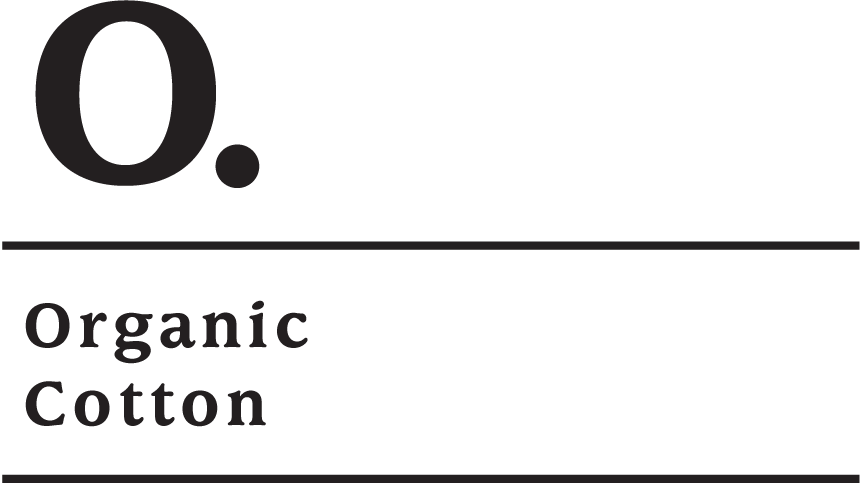 we recently switched to organic cotton after being blown away by the facts of conventional cotton production. according to the world health organization, many of the pesticides used to grow conventional cotton are the most acutely hazardous agricultural chemicals in the world, poisoning millions of farmworkers, birds, and fish every year and contaminating drinking water. the beautiful thing is that we the people hold the power to change this very quickly. if we become aware, and choose to spend our money on organic cotton products, the entire industry will be forced to switch to a safe and sustainable production process.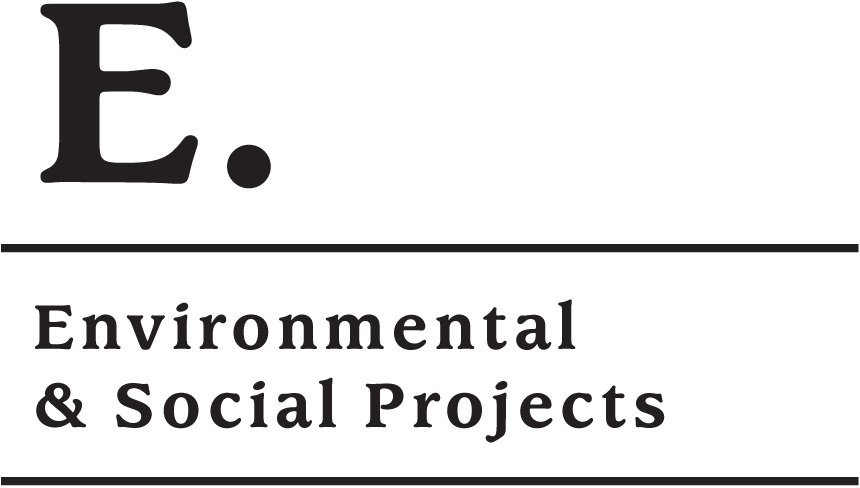 Find below a showcase of some of the environmental and social projects we've collaborated on and put together independently over the years. Our social & environmental project division is very important to us, and helps fulfill our mission to help conditions within the world and highlight awareness. Enjoy.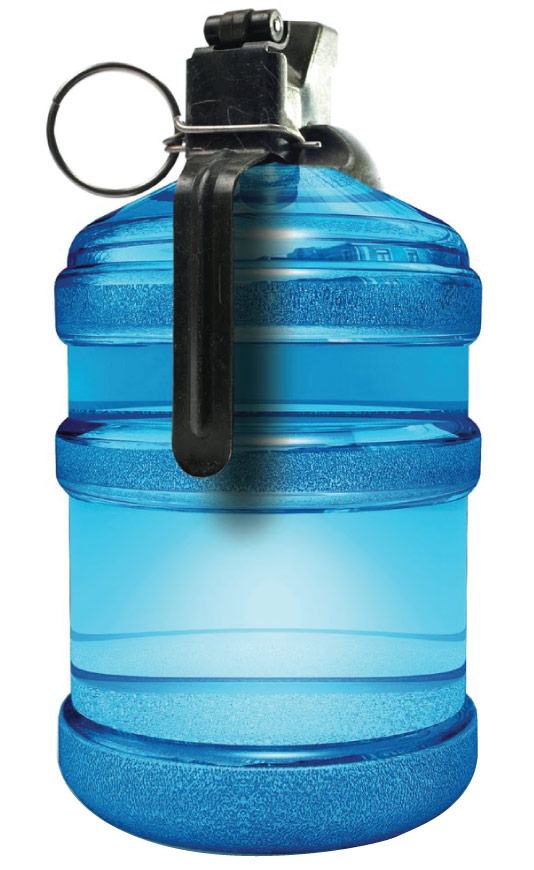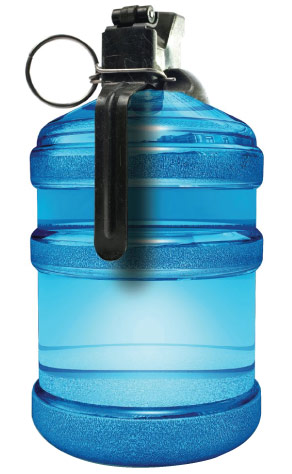 We are proud to be officially releasing our philanthropic collaboration with the highly acclaimed "Blue Gold: World Water Wars" Documentary. The aim of partnering with Sam Bozzo's film is to foster awareness and also raise money to protect and preserve our most precious resource, the foundation of life – Water. Blue Gold is an award winning documentary film concerning the environmental and political implications of the world's diminishing clean water supply. Akomplice has linked up with Blue Gold to offer a socially conscious line of t-shirts and water bottles both packaged with the full length DVD, in order to raise awareness for the impending world water crisis. The 2008 documentary film by Sam Bozzo paints a future in which wars are fought over water as investors and governments jockey for control of a diminishing water supply. We made use of the film's provocative cover art , a water jug symbolically retro-fitted as a grenade on a range of three t-shirts. Akomplice will be donating 100% of our profits from the collaborative capsule collection to Food & Water Watch, an organization built to ensure the safe and sustainable production of our food and water. Akomplice is taking a stance with our Blue Gold collaboration to protect our most precious resource, and in doing so we hope to inspire people to join forces and come together to protect our children's and grandchildren's future.

Monkey Wrench Gang Manifesto: In the spirit of mischief and in the name of civil disobedience Akomplice and X-Large come together to form the Monkey Wrench Gang. Through this collaboration, we seek to protect the environment in the places we call home. We oppose those who would sacrifice our sacred resources in the name of profit. We stand with the muckrakers and mischief-makers who throughout history have championed doing what is right over what is, simply, legal. Where the government fails, the citizens must act, and when laws are unjust, they must be broken. Edward Abbey knew this when he wrote The Monkey Wrench Gang in 1975, and it still holds true today. This collection offers subversive tools to help you in a resistance, from an actual monkey wrench, to botanical camo gear, and even a notebook for plotting your own schemes. Defend what you hold most dear and do whatever it takes. We are the MWG.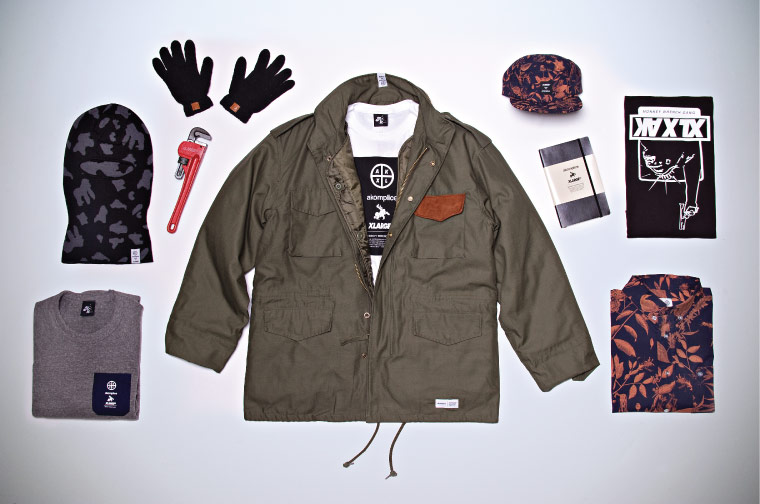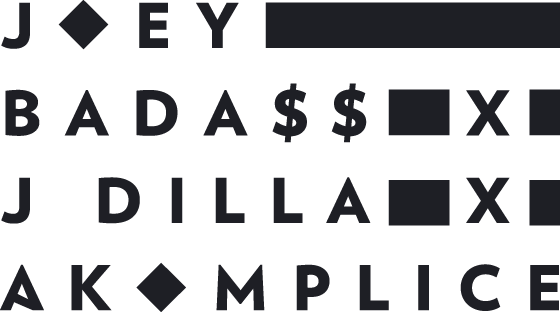 We're proud to have blended the talents of J Dilla (via the J Dilla Foundation) with those of the Beast Coast emcee, Joey Bada$$. Our goal with this project was to make something that we love and that the world loves, and to help enable youth access to music. Included within the collection is a t-shirt and crew neck that pay homage to the hallowed producer through an angelic cloud-graphic of J Dilla's face. We didn't feel as though a collaboration of this magnitude would be complete without original music, so we included a 45 record, exclusive to the capsule, which contains an unreleased J Dilla beat dubbed "Two Lips" on Side A and an unreleased Joey Bada$$ track over the aforementioned beat on Side B. We at Akomplice, along with the J Dilla Foundation and Joey Bada$$, are donating 100% of the collection profits to buy instruments and music lessons for underprivileged kids. Ms. Yancey will be distributing the instruments that we buy with the profits from this collection to children in Detroit, while Joey will follow suit at his alma mater in Brooklyn. More than receiving the gift of music, with each purchase consumers will also be providing the gift of music to those that may have otherwise gone without.

the Globe is Warming: Akomplice x The 11th Hour. Every other shirt is hang-tagged with The 11th Hour, a feature film documentary created, produced, and narrated by Leonardo Dicaprio. The team is pumped that everyone who buys the shirt will learn more about climate change and the present state of the natural environment.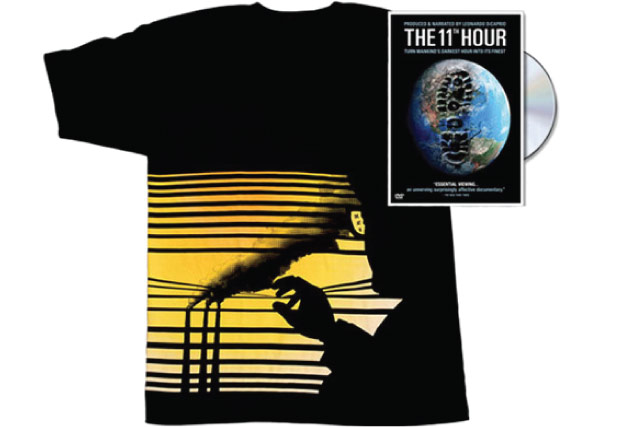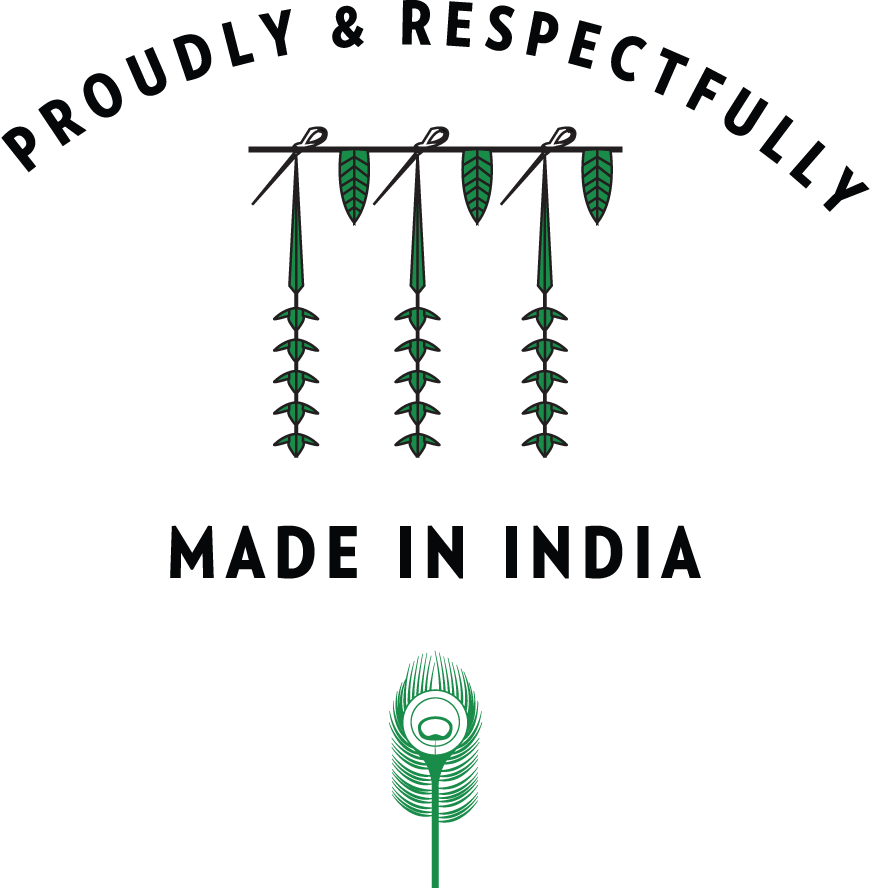 Peace Tamil is a program we created alongside our friends in the Souther region of India. Scholars cite Tamilans as possibly the oldest cultrue in the world. This program aims to protect the regions culture and environment. One of our first programs is to slow/halt deforestation in India is one of the major causes to the environmental degradation which is affected by the agents like small farmers, ranches, loggers and plantation companies. There is a broad consensus that expansion of cropped areas and pastures are a major source of deforestation. The term 'deforestation' describes the complete long term removal of tree cover. The loss forest cover influences the climate and contributes to a loss of biodiversity. The economic activity is adversely affected by siltation, flooding, soil degradation and reduced timber supplies. Thus, in turn, threatens the livelihood of people. Peace Tamil aims in planting new trees and protecting the ones still in the ground. Deforestation in South India must be addressed seriously and quickly to protect a culture whome scholars cite to be one of the oldest and wisest in the world.

Our latest endeavor is one of transcontinental collaborative philanthropy in the form of a T-Shirt collection produced in conjunction with Brazilian company Aesthetic. Despite being from two different continents, our two companies are coming together and donating 100% of profits to a common cause, the MOI Platform. This global initiative's objective is to raise scholarship money for the children of Empada, Guinea-Bissau, Africa to attend university. Brazilian photographer Philippe Pessoa captured poignant photos of the children of Empada on a trip he took to the rural town, which inspired the series. We are proud to add this project to our collection of philanthropic efforts. Other projects include our Blue Gold, Good Wood Aid Africa, Support Japan, 11th Hour Warner Brothers, and Fred Segal Paint Project. This time the endeavor is based on the belief that education is the most efficient way of initiating change within communities. The hope of the collaboration is to create long-term growth and development through investment in the youth. "Without change, there is no progress."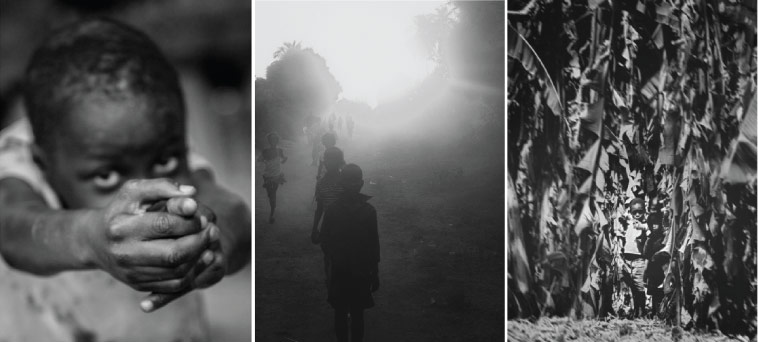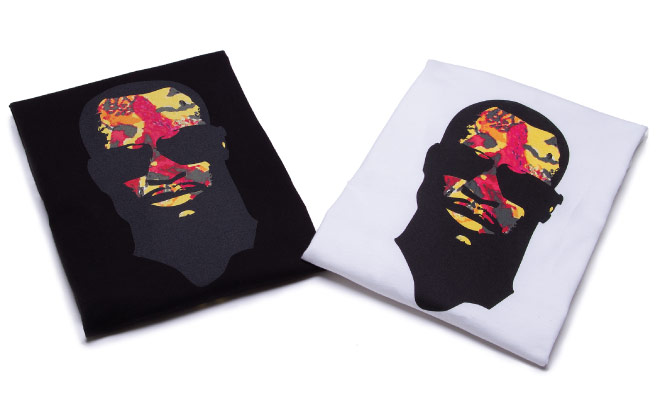 Akomplice teamed up with NFL tight end Vernon Davis of the San Francisco 49ers to produce two limited edition T-shirts with proceeds from the sales to benefit children in the U.S. and Africa. "There's a lot of need everywhere in the world," says Davis. "This is one way to make a difference in the lives of children in Africa and here at home." We will donate 50% of the proceeds from sales of the white T-shirts to Young Audiences Arts for Learning. The purchase of a black T-shirt provides a free T-shirt for a child in Africa to be distributed by Starkey Hearing Foundation. Starkey Hearing Foundation has given the gift of hearing to more than half a million people around the globe. "It will be our pleasure to deliver these T-shirts to children in Africa during our hearing mission trips to further brighten their lives with this gesture of goodwill," says Brady Forseth, Co-Executive Director of Starkey Hearing Foundation.

Water is the special ingredient that makes all life possible. It's a tragedy that humans are heavily polluting the oceans, our greatest body of water. Let's take this into our own hands and save our oceans. Akomplice is putting our money where our graphic is. 25% of all profits from this artwork will go towards protecting the world's oceans.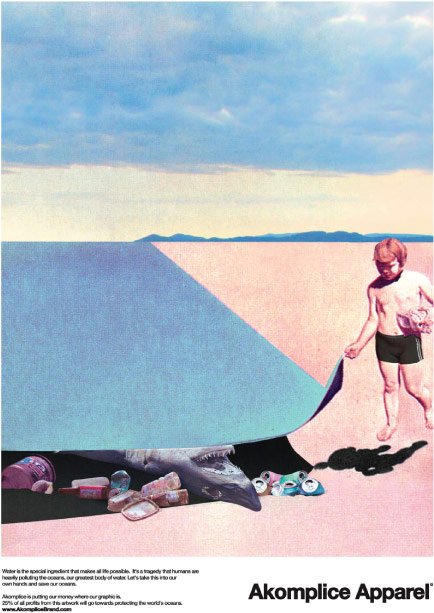 25% of profits from this shirt will be donated to protecting endangered species. Everyone knows that animals are becoming extinct at a rapid rate, many scientists estimate that extinction is 1,000 – 10,000 times higher than the natural extinction rate, due to human involvement.

Limited to 65 pieces total and only available on the Akomplice and Good Wood NYC websites. The collaboration package (retail $69.99) consists of an exclusive track from Chace Infinite which is a flip on D'Angelo's song "Africa," a handcrafted box set containing an intricately carved Africa necklace from Good Wood, and an original t-shirt from the fellas at Akomplice. 100% of the package's profits will be donated to the prefecture Iwate, in Japan.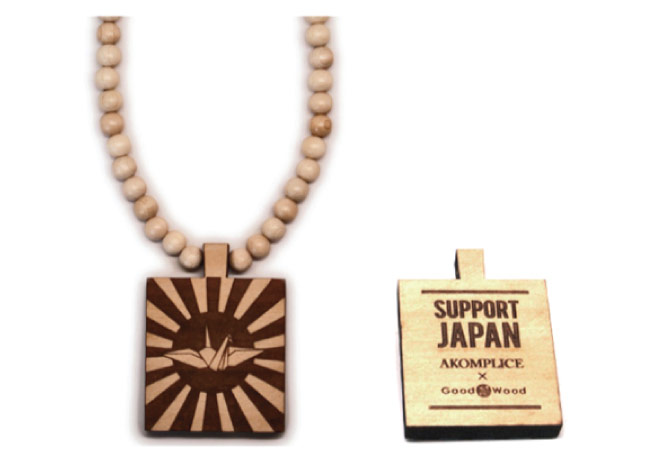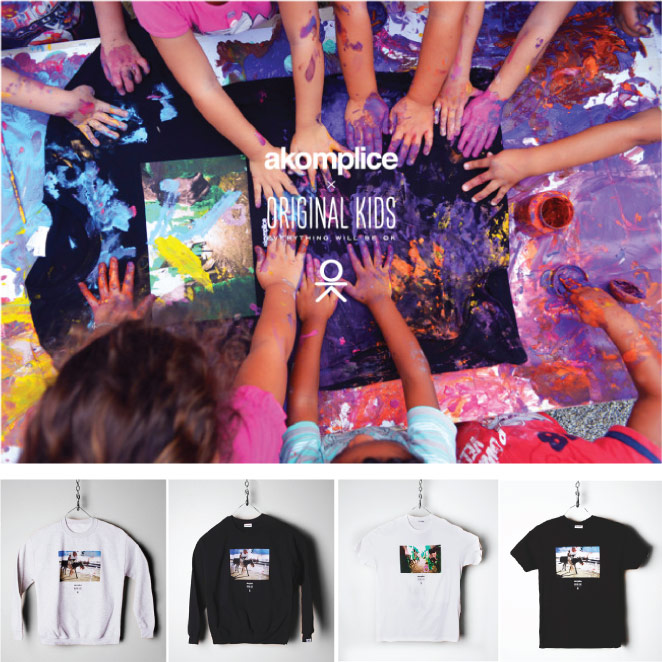 Akomplice's roots in Brazil run deep. Our latest philanthropic effort stems from our satellite office in South Brazil and is a testament to our investment in youth culture. For the impending capsule collection, we have partnered with Original Kids on a two-piece collaborative t-shirt series. The capsule collection is our latest installment in a long lineage of philanthropy. Rather than follow the typical charity structure, however, we brought the beneficiaries, in this case foster children in South Brazil, into the creative framework. The children were presented with a pair of images and encouraged to add their own artistic interpretation through the medium of paint. The freshly reinterpreted images were then scanned, printed and emblazoned on a pair of truly unique t-shirts and crew necks. In addition to fostering creativity, we are going to donate 50% of the profits garnered from the capsule collection to the same foster care children that were tapped to collaborate. While we maintain a stronghold in hip-hop culture through our work with Raekwon, J Dilla, and Joey Bada$$, it's our unwavering commitment to philanthropy that sets us apart within the industry. This is not the first time we have chosen to give back, and it will not be the last. Look for the capsule collection to be available worldwide at Akomplice retailers, and hit our webstore Saturday, April 26th at 2:26PM EST.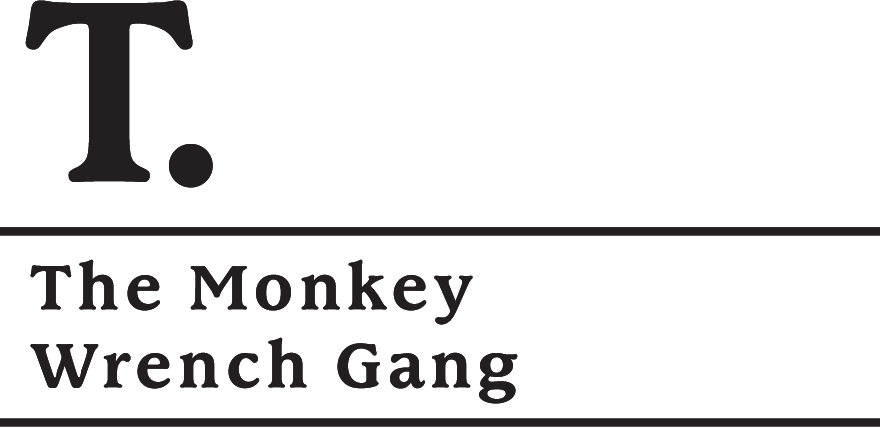 Monkey Wrench Gang Manifesto: In the spirit of mischief, in the name of civil disobedience, Akomplice and X-Large come together to form the Monkey Wrench Gang. Through this collaboration, we seek to protect the environment in the places we call home. We oppose those who would sacrifice our sacred resources in the name of profit, and we stand with the muckrakers and mischief-makers through history who have championed what is right over what is simply legal. Where the government fails, the citizens must act, and when laws are unjust, they must be broken. Edward Abbey knew this when he wrote the Monkey Wrench Gang in 1975. It still remains true today. This collection offers subversive tools to help you in this resistance, from an actual monkey wrench to botanical camo gear and even a notebook for plotting your own schemes. Defend what you hold most dear – whatever it takes. We are the MWG.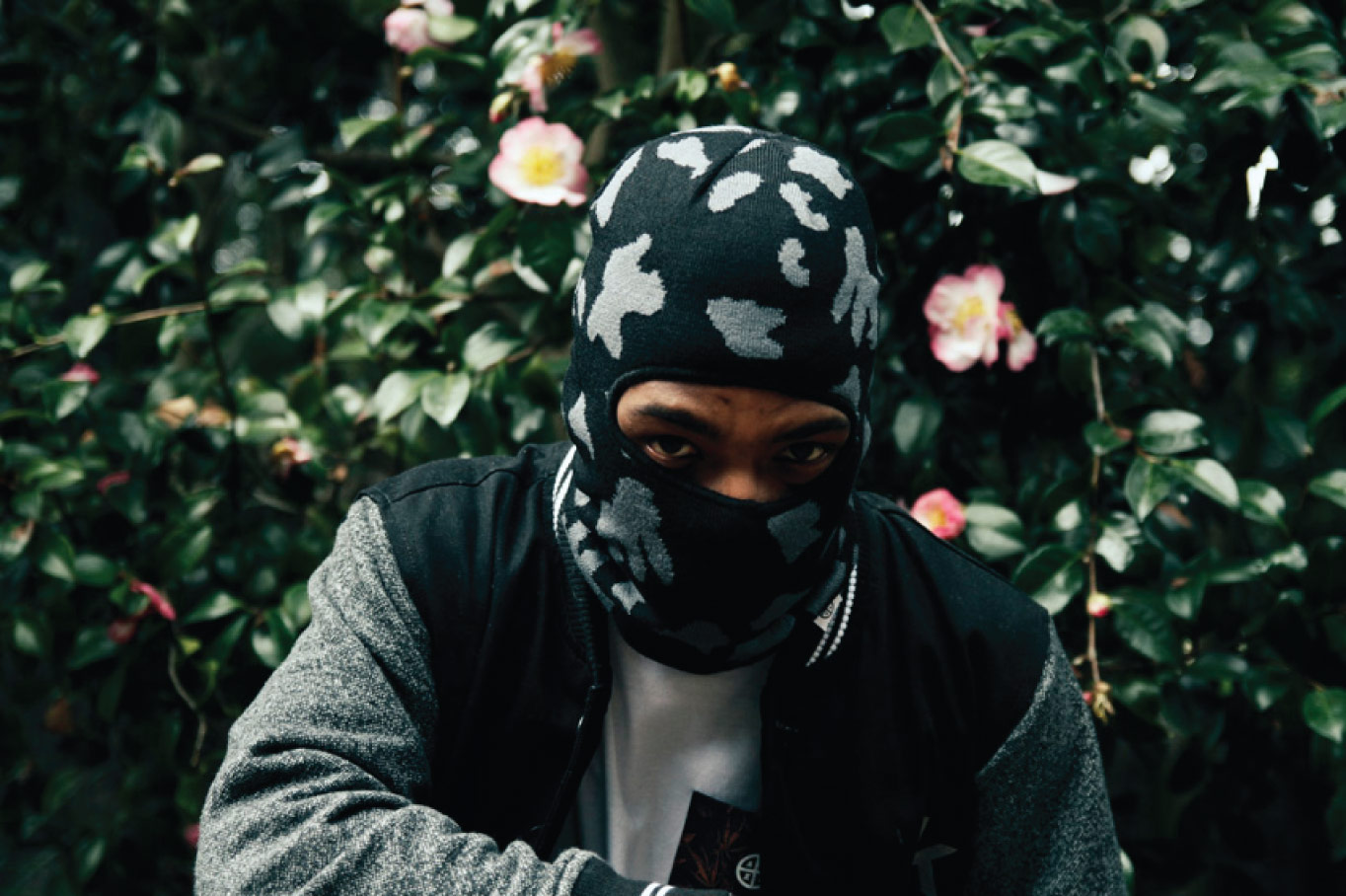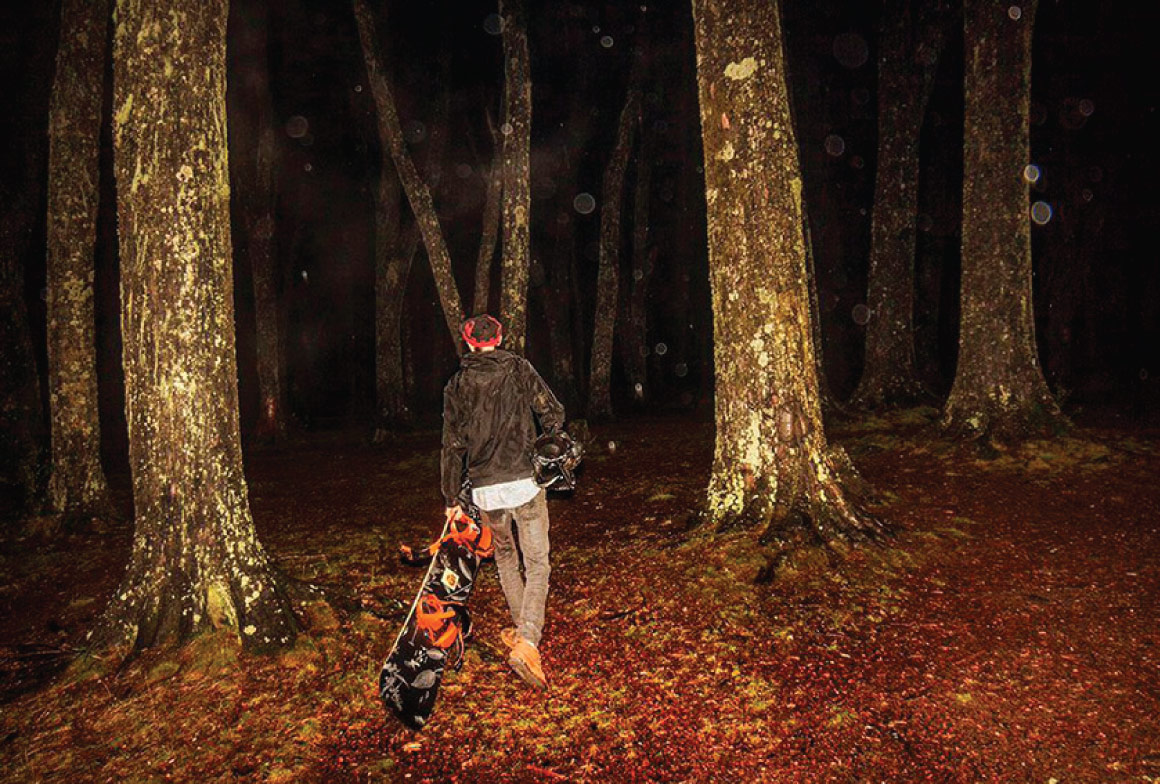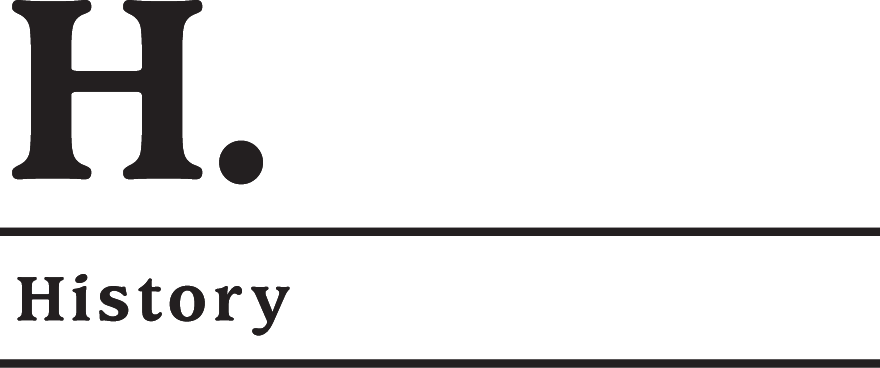 Mike and Patrick conceived akomplice at the young ages of 18 and 20. hailing from Colorado, without any industry-specific education, the two brothers embarked on their first collection with nine of their initial thirteen illustrator designs. fast-forward eleven years, and Akomplice is a pillar within the apparel industry still preserving the curiosity and passion from day one. Akomplice boasts collaborations with legendary artists, iconic brands and media outlets including the Wu-tang clan's Raekwon, Asics, bait, Fred Segal, Joey Bada$$, RIDE snowboards, MF DOOM, J Dilla, X-Large, Warner Brothers, Ebbets Field Flannels, Hieroglyphics, Sneaker Freaker, david flores, Ricky Powell, GRiZ, Wale, Frank 151, and NFL's Vernon Davis of the 49er's. Akomplice is currently sold in 33 countries, and carried in over 250 stores across the globe. mike and patrick have created an industry indispensable with Akomplice & VSOP through thought provoking graphics, and calculated material choices that gain sophistication with each season. though they've enjoyed swift and strategic growth, mike and patrick have maintained the ethos of "evolution through innovation" which is apparent within each collaboration, and garment produced.